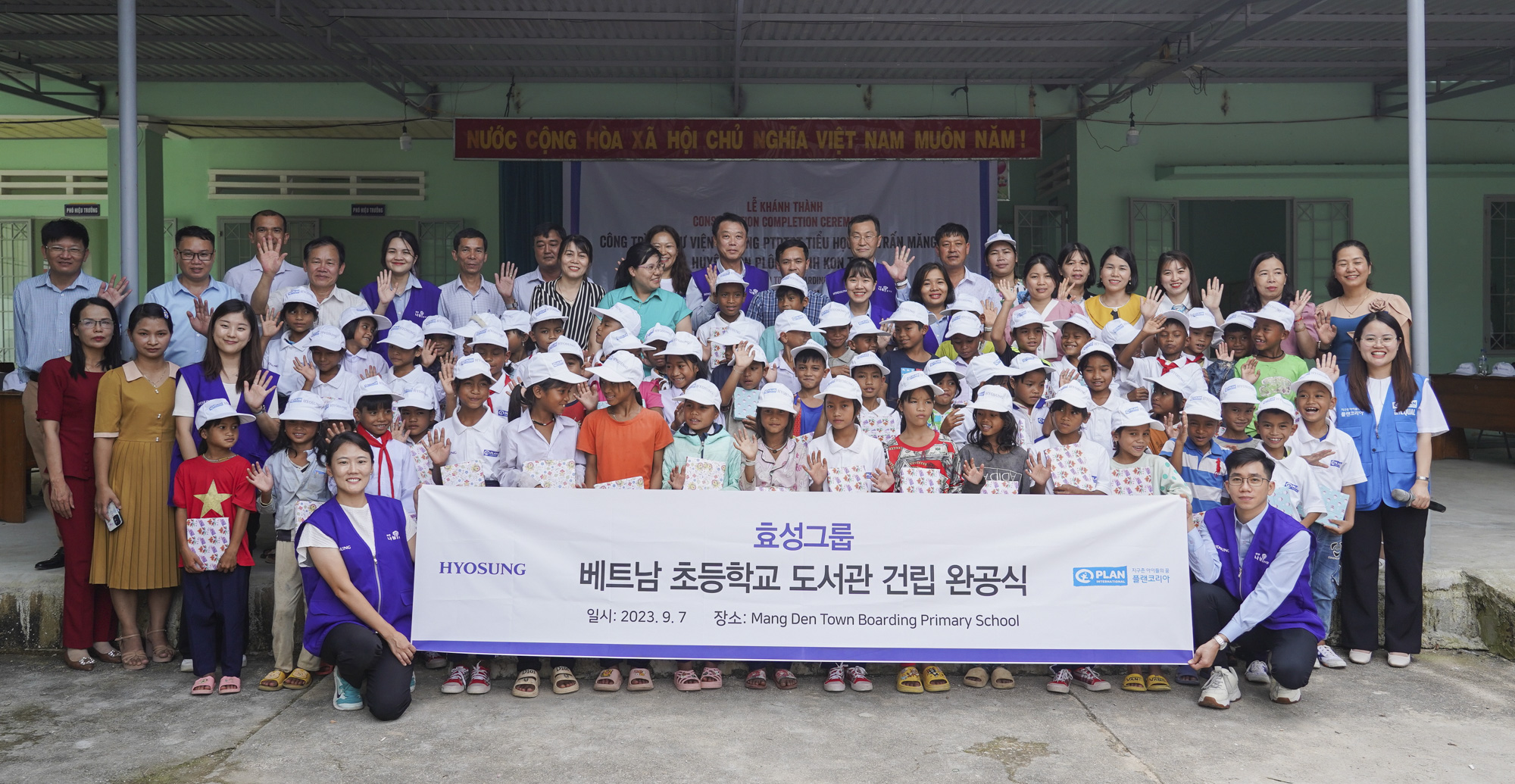 Hyosung held a ceremony on September 7 for work completion of a library that it donated to Mang Den Boarding School in Mang Den, Kon Plong District, Kon Tum Province, Vietnam.
The ceremony was attended by the following: Mr. Park Chan, head of Hyosung Quang Nam, Vietnam; those from PLAN Korea and PLAN Vietnam; teachers at the school; and 167 students and 5 parents.
The donation of the library is part of the sisterhood ties that Hyosung employees have forged with children from less privileged families in Vietnam. The employees have chipped in based on said sisterhood ties, with the Company matching the total amount raised by the employees to improve the local educational environment. About 180 employees from the following affiliates of Hyosung took part in said activity: Hyosung Corporation, Hyosung TNC, Hyosung Heavy Industries, Hyosung Advanced Materials, Hyosung Chemical, and Hyosung Goodsprings.
Mang Den Boarding School is located deep in a mountain in Kon Tum Province, where Hyosung's place of business is located. Local students experience lots of difficulties due to the lack of space for studying including library and educational materials. Hyosung has also provided materials including badminton equipment and chess sets and 450 books as well.
"The library we've donated to Mang Den Boarding School is a result of humanitarian fund raising with Hyosung employees chipping in and the Company also taking part. We at Hyosung will continue to strive to build the local community as a brighter, more hopeful place," Mr. Park Chan said following said ceremony.
In 2018, Hyosung signed an agreement with PLAN Korea, which is an NGO for international relief and development, to work together for programs designed to provide support for children in remote areas in Vietnam. Since then, Hyosung and its employees have chipped in for the improvement of the environment for education and daily living for 1,191 local students.
Hyosung operates production bases for its leading products such as spandex, safety belt, fiber yarn, tire cord, etc. in Nhon Trach near Ho Chi Minh City and Tam Thang Industrial Park in Quang Nam Province.
Chairman CHO Hyun-joon once disclosed a plan to "increase investment in Vietnam and expand cooperation with the locals."
Hyosung has dispatched a team of doctors/nurses to Vietnam for free medical services to locals since 2011, with the number of locals receiving the services exceeding a thousand every year. The Company also engages in various social contribution activities in the country including the construction of a kindergarten in a mountainous area in Quang Nam Province, operation of a program for raising pigs to help single moms become self-reliant, etc.