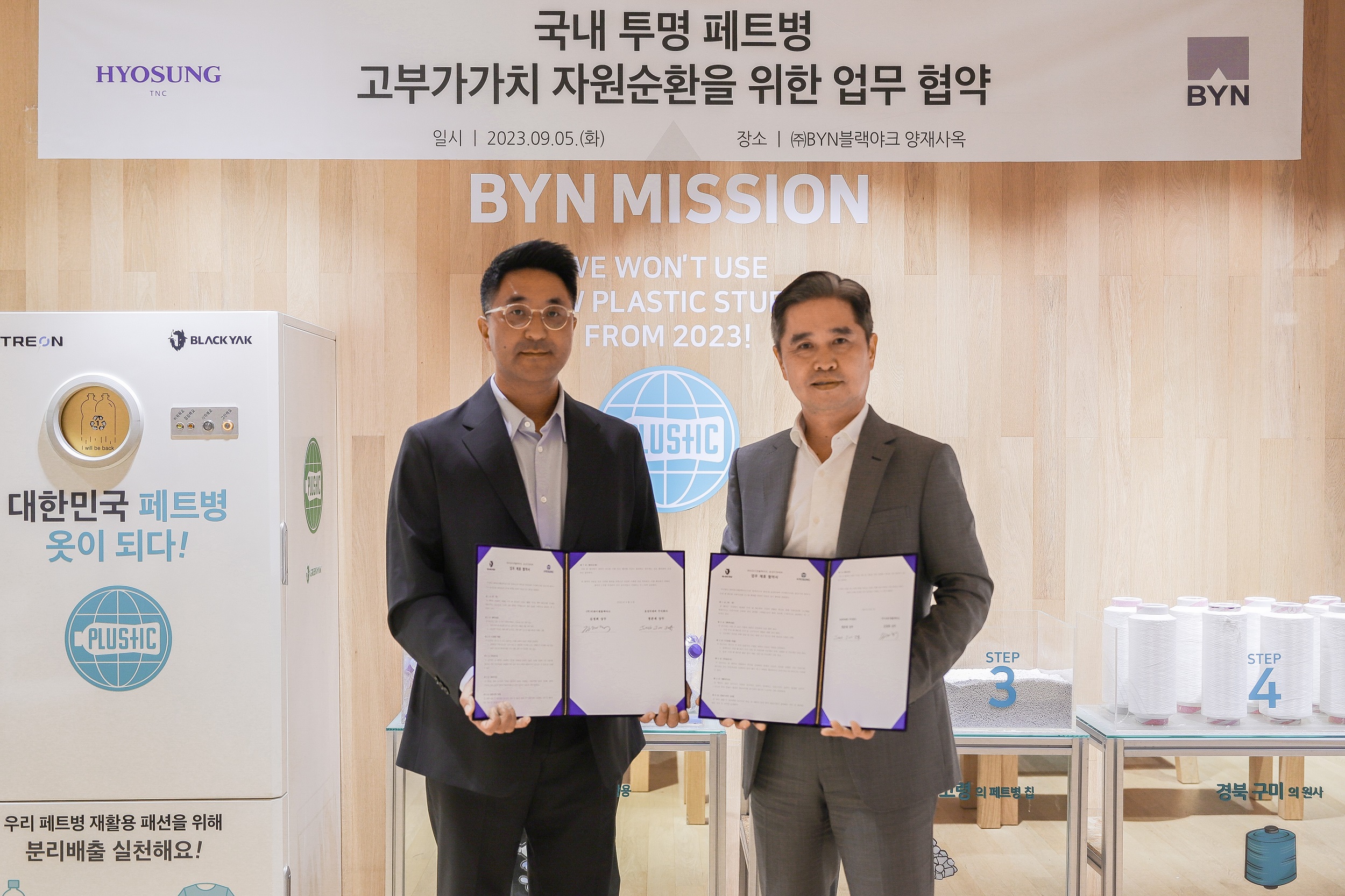 Key figures from Hyosung TNC and BYC BLACKYAK held, on September 5, a ceremony of signing an agreement on the expansion of the system for virtuous cycle of resources (transparent waste PET bottles) at the headquarters building of BLACKYAK.
Hyosung TNC will be in charge of development and production of polyester fabric made of recycled PET bottles, with BLACKYAK intending to expand the production of upcycled goods using said fabric.
"Regen with BLACKYAK" textile will be made through the cooperation between the two businesses. Said textile is made through the process of local governments and businesses' signing of the partnership agreement with BLACKYAK for the recycling of resources, handing over of washed sliced PET bottles, and Hyosung TNC's extraction of textile from them after melting them.
Regen with BLACKYAK is also being applied to BLACKYAK's T-shirts and pants featuring light weight and comfort. Regen with BLACKYAK will be made through cooperation with domestic businesses using domestically made raw materials. Hyosung plans to lead others in the domestic market for recycled goods.
Hyosung TNC will also produce regen with BLACKYAK as threads with antibacterial function by using them in the production of pockets to protect customers from bacteria.
Fabrics for all pockets in the BLACKYAK clothing brand are made of antibacterial threads as they are touched by the wearer's hands, and tags to such effect are provided in the clothing.
Hyosung TNC is striving to reinvent its business and expand its territory to eco-friendly fibers and fashion goods including recycled fibers such as re-gen and biodegradable fibers. For its part, BLACKYAK is striving to diversify its new business areas including application of its knowhow accumulated in cooperation with the relevant experts like mountain climbers/hikers to functional clothing and goods designed to protect both nature and people in the outdoor environment.
"We are leading others in global trends related to eco-friendly fabrics such as regen, mipan regen, etc. Regen with BLACKYAK is a result of our effort to reflect customers' opinions on function-related matters as well as matters concerning eco-friendliness. We will concentrate on the expansion of our global markets by enhancing the share of eco-friendly fabrics even in the market for functional fabrics with high added value," the Company's President Kim Chi-Hyung said.