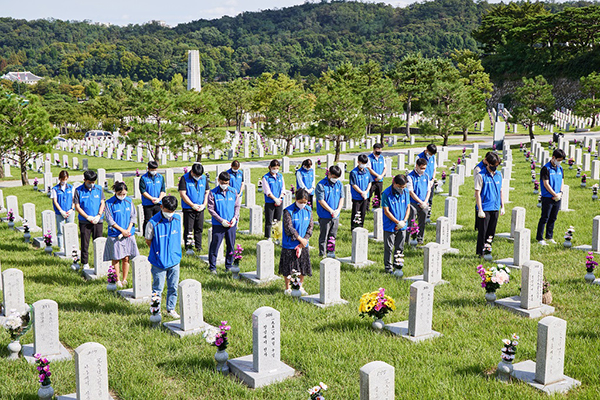 On Sept. 20, Hyosung employees paid homage to those laid to rest and enshrined at the Seoul National Cemetery in Dongjak-gu, cleaned the tomb sites, and placed flowers there.
The said activities were carried out in connection with the 74th Armed Forces Day (Oct. 1). The employees tallied over 20 people from major affiliates of the Hyosung Group, such as Hyosung Corporation, Hyosung TNC, Hyosung Heavy Industries, Hyosung Advanced Materials, Hyosung Chemical, etc. Hyosung has formed a partnership with the cemetery site and has been participating in such activities twice a year since 2014.
Hyosung has provided support for a program geared to provide an improved residential environment to war veterans since 2012 through social contribution activities, as well as provide daily necessities to the elderly of national merit through the Nambu Branch of the Ministry of Patriots and Veterans Affairs (MPVA) since 2017.