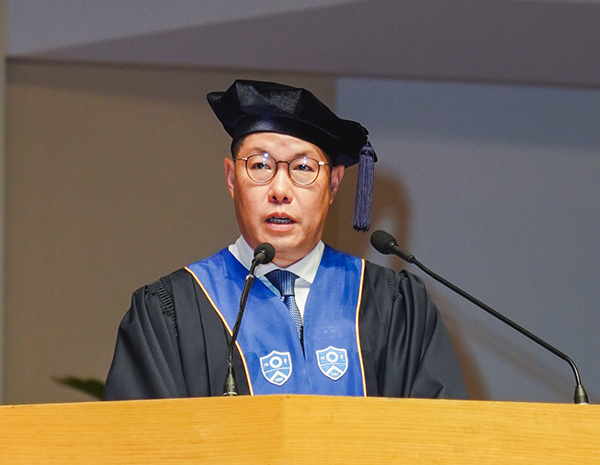 Hyosung Vice Chair Cho Hyun-sang received an honorary diploma from Yonsei University at a ceremony held on August 26 at the school, 32 years after his admission to the school. He also delivered a message of congratulations and encouragement to the 3,058 students graduating that day.
He emphasized three points to the graduating students: "Do your best at every moment with a dream and a vision"; "Enjoy challenges and failures to your hearts' content"; and "Build experience and have earnestness, be courageous enough to work for others."
In 1991, he started studying at Brown University, Rhode Island, New York as an exchange student while attending Yonsei University's Department of Education. Looking back at those days, he noted how he spent those days carrying out activities earnestly as a member of an Acapella group, a reporter for the school newspaper, and an athlete of the school's American football team while studying hard, always with a thirst for challenge.
He recalled that, after graduation, he joined global consulting firm Bain & Company, working 100 hours a week. He said that such period of hard work was a valuable experience that would serve as the groundwork for his future career at the Hyosung Group. Later, he joined Hyosung in 1998 when the financial crisis hit the country. He told the graduating students that challenge is what only young people can do, that they need to be brave enough to stand up again despite failures, and that they should be pertinacious enough to accomplish what they planned no matter what.
He also stressed that all of the graduating students should have a sense of mission for building a new life for them and for others with a grand hope, and that they need to be courageous enough to work for others using their experience and earnestness. Serving as the head of Hyosung Social Work Volunteers since 2015, he has stressed the importance of sharing warm and healthy values with others. Hyosung Social Work Volunteers engage in a variety of humanitarian activities including the Young Nak Aenea Center, a facility for those suffering from developmental disorders, and Onnuri Love Chamber, which is an orchestra composed of those with developmental disability.
In presenting the honorary diploma to Mr. Cho Hyun-sang, Yonsei University said that the event was in recognition of his efforts in ▲playing a leading role in the company's growth based on creativity, innovation, and challenge, putting Yonsei's vision into practice, and ▲social contribution activities in the fields of culture and sports and less privileged neighbors.