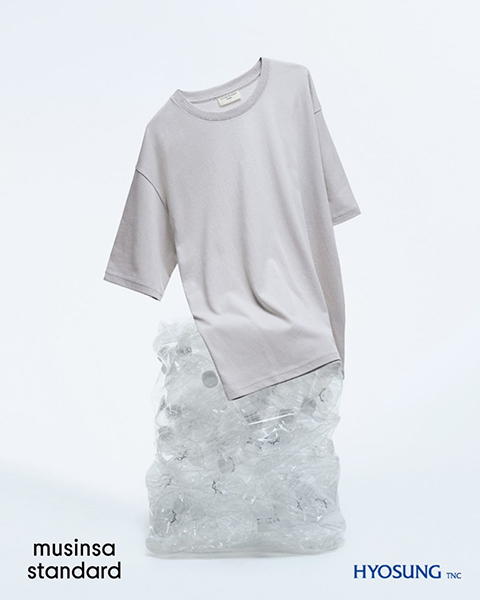 Hyosung TNC launched T-shirts and socks of Musinsa standards made of regen on the occasion of Earth Day (April 22).
This is an item launched for the first time in Green Line, the first eco-friendly apparel series of Musinsa standards as a modern basic casual wear brand.
Last January, Hyosung TNC signed an MOU with Musinsa for the joint development of eco-friendly apparel.
The T-shirts and socks launched this time feature popular design, diverse colors, eco-friendliness, and reasonable prices.
Consumers, especially who have had difficulty accessing eco-friendly fashion goods, are expected to be attracted easily to these fashion goods, which will play a leading role in the popularization of eco-friendly fashion trends.
″The cooperation between the two businesses will lower the barriers to entry to eco-friendly apparel, and it will result in the popularization of conscious fashion. We intend to work with many fashion brands and local governments to make regen known more widely,″ CEO Kim Chi-hyung of Hyosung TNC said, commenting on the newly introduced items.
Hyosung TNC plans to introduce many regen products, aiming for the winter season in cooperation with Musinsa.
Meanwhile, Hyosung TNC supplies functional fiber like aeroheat and askin to Musinsa standards as part of the effort for the joint production of popular items such as heatandard with heating function and cooltandard with cooling function.