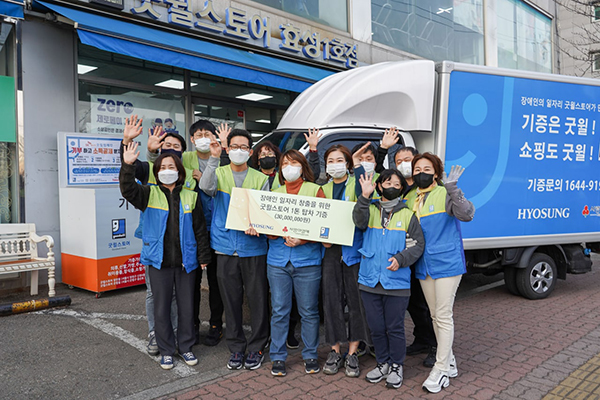 Hyosung provided on March 17 a truck for carrying donated goods to the Eunpyeong Branch of Goodwill Store. The new truck presented by Hyosung will replace the old one, which was also provided by Hyosung in 2013 and used as donated goods carrier since.
Since 2013, Hyosung has invested approximately 700 million won in all to create jobs for the handicapped and opened the Eunpyeong Branch of Goodwill Store. At present, said branch has five people with severe disability and two North Korean defectors carrying out the work of classifying and selling donated goods.
Hyosung employees (from head office to regional branches alike) have donated 85,000-plus items to the branch.
Hyosung Vice Chair Cho Hyun-sang, who has served as Head of Hyosung Sharing Volunteer Group since 2015, stressed that businesses should take the lead in building a community where needy neighbors can get assistance to stand on their own. ″I am very happy to see Goodwill Store, which has worked side by side with us, create jobs for the handicapped and work to improve the way people perceive the handicapped. We will continue providing support to those working to build warm and healthy communities,″ he added.
At present, Hyosung provides financial support for programs for handicapped artists belonging to the Seoul Foundation for Arts and Culture′s Jamsil Creator Studio and Onnuri Love Chamber, an orchestra composed of those with developmental disability.