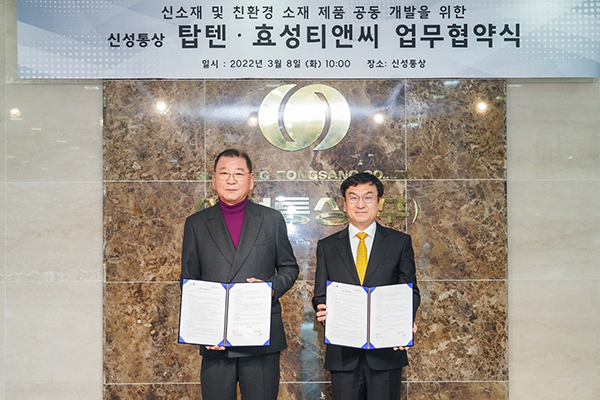 Hyosung TNC has started working with TOPTEN, the No. 1 SPA business in the country, for the joint development of eco-friendly products.
On March 8, the Company signed an MOU with TOPTEN for said undertaking in a ceremony held at the headquarters building of Shinsung Tongsang in Gangdong-gu, Seoul, with Hyosung TNC President Kim Chi-hyung and Shinsung Tongsang Chair Yeom Tae-soon in attendance.
The two businesses′ decision to work together for the development of good-quality eco-friendly products with reasonable prices came following the increase in such goods particularly among the MZ generation.
Under said MOU, Hyosung TNC will develop/supply diverse eco-friendly materials using Regen®, which is polyester fiber made of recycled transparent PET bottles. For its part, TOPTEN will introduce a collection of cost-effective, eco-friendly clothes using it, including activewear like Balance.
Hyosung TNC also intends to help TOPTEN introduce a variety of cost-effective, eco-friendly clothes through the joint development of new products using Regen® and by providing eco-friendly fashion ideas to TOPTEN.
″We are playing the leading role in fashion markets both in and out of the country through eco-friendliness, fully taking advantage of the merits of our Regen® and working with local governments as well as the relevant fashion brands. We will continue making similar efforts by making eco-friendly products easily accessible to consumers through positive cooperation,″ Hyosung TNC President KIM Chi-hyung said, commenting on the matter.
For his part, Shinsung Tongsang Chair Yeom Tae-soon noted that TOPTEN and Hyosung TNC have worked together to develop eco-friendly materials and functional fabrics. ″We have been able to improve our main line of products like OnAir, CoolAir, and Balance. Through the MOU signed this time, the two businesses will engage in further R&D of new materials/eco-friendly products to make better apparel and meet consumers′ desire for value-based consumption,″ he added.