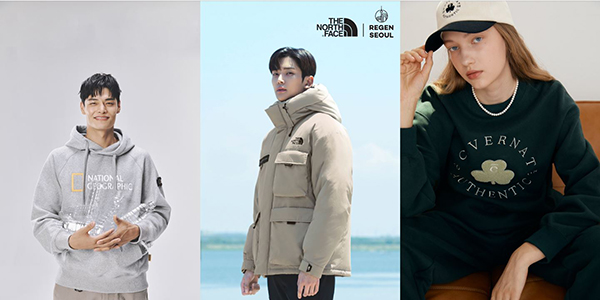 Hyosung TNC's recycled fiber 'Regen Seoul (regen®seoul)' has recently been receiving love calls from domestic outdoor and fashion brands in line with the eco-friendly trend.
Since July, Hyosung TNC has been supplying Regen Seoul to North Face which is favored by consumers in all ages as well as MZ generation, and National Geographic and Covernat which are popular with MZ generation. Hyosung supplies textiles for those companies' Fall-Winter 2021 products. The three brands will roll out new eco-friendly products that are made of Regen Seoul in August and September.
It is believed that brands targeting young people seek Regen Seoul to meet the trend of eco-friendly "value conscious consumption" of MZ generation.
More fashion brands besides North Face, National Geographic and Covernat have asked for Regen Seoul.
Regen Seoul is a fiber made by recycling waste PET bottles collected from Geumcheon-gu, Yeongdeungpo-gu and Gangnam-gu in Seoul.
Hyosung TNC goes beyond supplying fiber to partner brands and engage in online and offline promotion of products targeting MZ generation. It will continue to communicate with consumers by sharing information about clothes made of Regen Seoul on its Instagram account (@hyosung_textiles).
Hyosung TNC CEO Kim Yong-seup said, "Hyosung is flooded by collaboration requests from many brands in line with the rapid emergence of eco-friendly fashion." "We will expand the base of Korea's eco-friendly fashion market by working with brands that have awareness of eco-friendliness," he said.
Besides Regen Seoul, Hyosung TNC is producing regen®jeju by recycling PET bottles collected in Jeju and regen®ocean by recycling PET bottles collected in oceans.