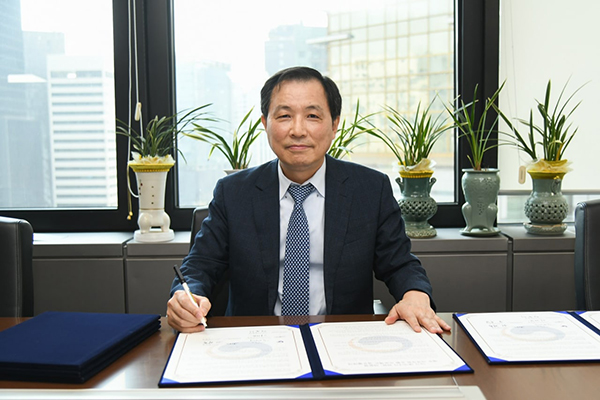 Hyosung TNC CEO Kim Yong-seup has joined the social media campaign "Go Go Challenge" that aims to protect the environment by reducing the use of plastics in everyday life.
The Go Go Challenge is a "de-plastic" movement launched on social media by the Ministry of Environment in January. Each participant nominates the next participant after promising one thing that should not be done and one thing that should be done to reduce the use of plastics, including disposable products.
In a video for the Challenge which was put on Hyosung TNC's social media on Feb 1, CEO Kim demonstrated his determination to "reduce the use of plastics by refraining from using disposable plastic bags and making a habit of separating the recyclable waste."
He remarked, "Hyosung TNC has been working to build a system for a virtuous cycle of resources by recycling PET bottles that are dumped in Jeju Island and Seoul to make eco-friendly fibers." The work which began in Jeju last year included Seoul this year. "As the CEO of a global eco-friendly textile company, I will take the lead in improving consumers' perception of eco-friendliness."
CEO Kim participated in the Challenge on the nomination of Kim Jung-hak, CEO of the Jeju Development Corporation, Jan. 25. The next nominated participants were Chairman Sung Ki-hak of Youngone Corp. and Youngone Outdoor, Austrian textile company Lenzing's Global Vice President Marketing & Branding Harold Weghorst, CEO Lee Soo-yong of Dutch eco-friendly certification agency Control Union Korea, and singer and actress Bae Da-hae. The video is available on Hyosung TNC's Instagram @hyosung_textiles.