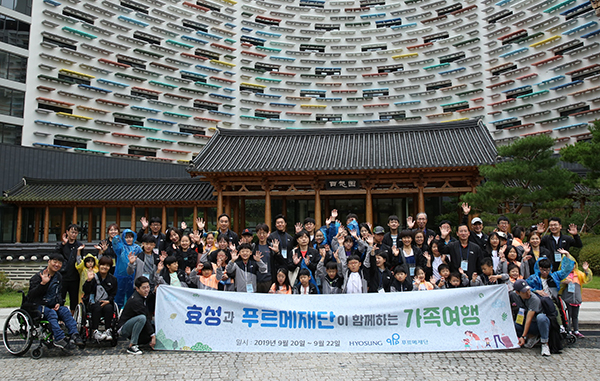 Hyosung held "Family Trip of Love with Hyosung and the Purme Foundation" together with families of disabled children and youth in Buyeo and Gongju, Chungcheongnam-do for 3 days from September 20 to 22.

"Family Trip of Love" is part of Hyosung and the Purme Foundation's rehabilitation program for children and youth with disabilities. On this trip, 10 families of Hyosung employees and 10 families of children and youth with disabilities participated in various activities in pairs, such as making soft tofu and candles.

On the 20th, the first day, participants enjoyed water sports at Lotte Resort Buyeo, and on the next day, they visited the roof tile village in Buyeo where they engaged in the hands-on experience of making candles and soft tofu as well as recreational activities. On the 22nd, the last day, the families visited Chicken University in Icheon and cooked fried chicken and pizza.

This event provided a rare family outing opportunity to families with children with disabilities who did not have the luxury of going on a family trip because they usually have to go back and forth between home and the treatment facility. The families of Hyosung employees also had a time of healing where they had a better understanding of each other and learned the importance of harmonious society while spending time with families of disabled children.

"Since my child has a disability, it was not easy to travel with other families. I am happy to see that not only children but also all families became friends through this trip. My kid is already asking for another trip next year," said the mother of a disabled child who participated in the family trip.

One Hyosung employee said, "I take part in Family Trip of Love every year. Since this year's trip took place for 3 days and 2 nights, we had more time to have in-depth conversations with our partner family. We had a good time and made precious memories."

Together with the Purme Foundation, Hyosung has sponsored a medical rehabilitation fund for children with disabilities who have difficulty receiving rehabilitation treatment and their families and provided various programs for 7 years since 2013.

This year, the company increased the sponsorship amount to 150 million won and is offering psychotherapy or special education programs for disabled children's siblings who could feel neglected while parents take care of their disabled child. Hyosung is expanding its support programs including a summer outing in July which invited some 20 non-disabled siblings of disabled children to provide comfort.
*About Hyosung : Hyosung Corporation is a South Korean industrial conglomerate, founded in 1966. It operates in various fields including heavy Industrial machinery, advanced materials, chemical industry, and textiles. Its CEO is Hyun-Joon Cho and the headquarter is in Mapo-gu, Seoul. Hyosung has a global network of about 90 sites in the U.S., China, Europe and other parts of the world, with about 30,000 employees. Tire reinforcements, spandex, and seatbelt yarns are No.1 in global market share.