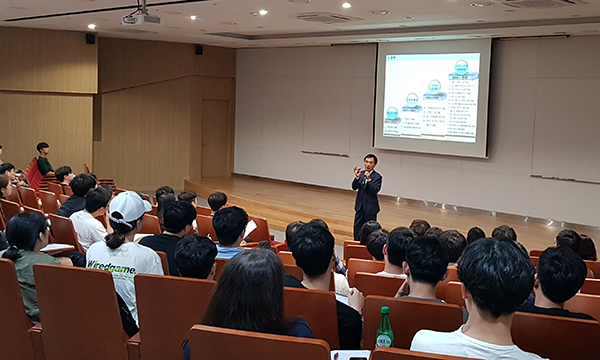 Hyosung has been running the "Future Technology Talent Cultivation" program for natural sciences or engineering students of Korea's top universities for 9 years.

Hyosung announced on September 18 that it opened an industry-academic cooperation course for 110 undergraduate, graduate, and doctoral students of the Chemical and Biological Engineering Department at Korea University for the second semester of 2019.

The industry-academic cooperation course is a project Hyosung has been carrying out since 2011 to foster future technology talent. So far, more than 1,000 undergraduate, graduate, and doctoral students in science and engineering at Korea's top universities, including Seoul National University, KAIST, Yonsei University, and Sungkyunkwan University, have taken the course.

This program follows the philosophy of technological management of Chairman Hyun-Joon Cho. Chairman Cho has emphasized that "in order for Korea to become a materials powerhouse, we should expand investment in R&D as well as secure professionals with expertise."

In this semester, for the Knowledge Management course of the Chemical and Biological Engineering Department at Korea University, 20 executives and team leaders in charge of research in high-performance fiber, petrochemical, optical film, and environmental energy materials at Hyosung R&DB Labs, including Doo-won Jang, head of the Chemical and Biological Hyosung R&DB Labs, will lecture on technology trends and outlooks in the industrial field.

In particular, students will gain a better understanding of Hyosung's global No.1 products, such as spandex and tire cords, and at the same time, learn the latest technology and trends related to new-generation materials based on the global market, such as carbon fiber which is called the "staple of future industries and a new dream material."

Hyosung plans to select outstanding students as industry-academic scholarship beneficiaries in an effort to nurture them into new materials experts with professional knowledge and practical skills. Selected students will be granted scholarships as well as employment for their stable study.

Professor Hyun Wook Jung of the Chemical and Biological Engineering Department of Korea University said, "We expect students to grow into tailored R&D talent that will provide practical help to companies as they experience the theories that become basis of the technological competitiveness of enterprises."


*About Hyosung : Hyosung Corporation is a South Korean industrial conglomerate, founded in 1966. It operates in various fields including heavy Industrial machinery, advanced materials, chemical industry, and textiles. Its CEO is Hyun-Joon Cho and the headquarter is in Mapo-gu, Seoul. Hyosung has a global network of about 90 sites in the U.S., China, Europe and other parts of the world, with about 30,000 employees. Tire reinforcements, spandex, and seatbelt yarns are No.1 in global market share.