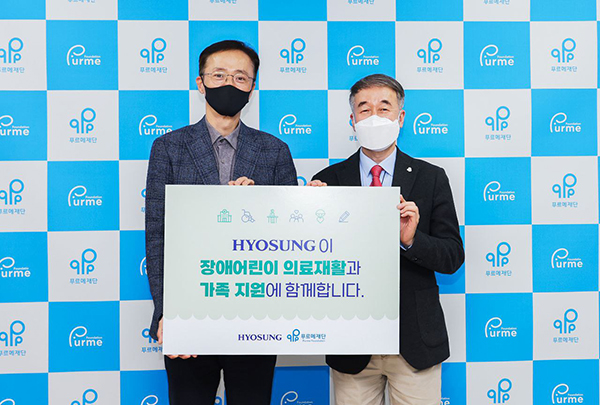 Hyosung donated KRW150 million for programs designed to help disabled children in their medical rehabilitation and provide support for their families run by the Purme Foundation on April 6.
Hyosung′s relationship with Purme Foundation dates back to 2013, ten years ago. Hyosung′s donation is spent on a variety of rehabilitation treatments for disabled youths, education/psychological treatment of their non-disabled siblings, trips with families of Hyosung employees, concerts held with their families invited, etc.
The donation provided by Hyosung this year will be spent on the rehabilitation treatment of 20 disabled youths and education/psychological treatment of their 25 non-disabled siblings, etc. Twenty families of the youths receiving support from the Purme Foundation will also be invited to accompany the families of Hyosung employees on family trips. By making such donation, Hyosung expects the following good results: restoration of mind and body of disabled youths; psychological stabilization of their non-disabled siblings; and expansion of opportunities for self-development.
″We will continue to provide support so there will be no gaps in the treatment of disabled youths and their families due to the prolonged COVID-19 situation,″ Hyosung Chairman Cho Hyun-joon said, commenting on the matter.
Other things that Hyosung has done in connection with what is stated in the foregoing include the provision of support for the operation of barrier-free cinemas for the disabled and provision of support fund for replacing instruments of Onnuri Sarang Chamber Orchestra, etc.