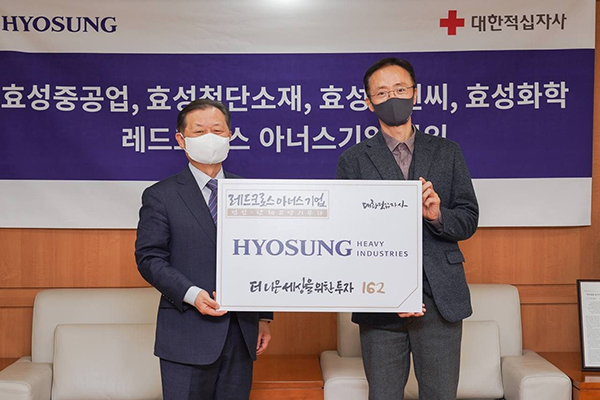 The Hyosung Group′s leading affiliates—Hyosung TNC, Hyosung Advanced Materials, Hyosung Chemical, and Hyosung Heavy Industries—were adopted as members of the Red Cross Creating Shared Value.
On February 14, those from the Hyosung Group paid a visit to the Seoul Office of the Korean Red Cross (KRC) and joined the Red Cross Creating Shared Value (RCSV). Hyosung Corporation, the group′s holding company, became the first among the group affiliates to join the club in February 2020.
Hyosung has provided support for the KRC′s campaign for ′Sharing side dishes with love′ since 2005, and its employees have taken part in the campaign for blood donation and charity bazaars held by the KRC. Hyosung has also provided support, large and small, for the needy including raising funds to overcome COVID-19 and for flood victims (2020).
Meanwhile, Mrs. Song Kwang-ja, wife of Hyosung′s Honorary Chair Cho Suk-rae, joined Red Cross Honors Club(RCHC) in 2016 simultaneously with her older sister Mrs. Song Gil-ja; thus becoming the first sister members of RCHC.