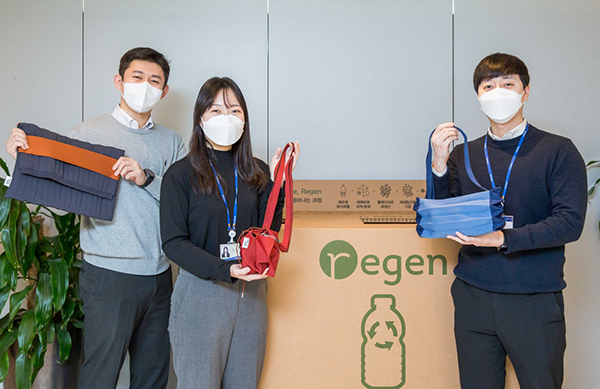 Hyosung TNC employees receive eco-friendly bag in return for used PET bottles.
Around 500 employees of Hyosung TNC started on February 14 a campaign for the collection/recycling of used PET bottles as the second round of eco-friendly campaign waged by employees following the first one (″using personal cups in office″) in May last year.
The campaign carried out this time is being done to help employees enhance their awareness of the need for resource recycling and foster an eco-friendly corporate culture in a bid to reinforce ESG management.
The Company plans to engage in the campaign on two occasions (up to the end of May, June through December). It seeks to collect a total of 8,000 used PET bottles (4,000 bottles per occasion) and provide bags to those who take part in the campaign.
The bags provided to employees come in four types including Regen® pouches and cross bags made by PLEATSMAMA, a startup. Regen® is eco-friendly fiber made by Hyosung TNC through the recycling of PET bottles. They enjoy popularity among MZ-generation consumers who place importance on value-based consumption.
The Company plans to spread the campaign to business places outside Seoul.