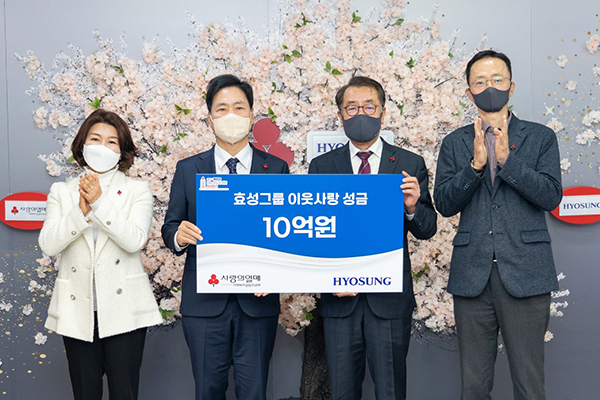 Hyosung Group delivered 1 billion won in donations for needy neighbors to the Community Chest of Korea on December 7.
The donations raised on the occasion of the year-end by five companies -- Hyosung Co., Hyosung TNC., Hyosung Heavy Industries, Hyosung Advanced Materials, and Hyosung Chemical -- will be used to support Korean War veterans′ housing, employment of women whose careers were interrupted, and self-reliance and daily livelihood of underprivileged people.
Hyosung Chairman Cho Hyun-jun said, "We hope that warmth will be delivered so that our neighbors suffering from the COVID-19 crisis can have hope."
Under the social contribution slogan "We will be together with sharing," Hyosung has been actively carrying out social contribution programs and sustainable management, focusing on three themes: support for the vulnerable, support for culture and arts, and reward for veterans and patriots.
Recently, Hyosung was designated as an "Excellent Enterprise for Social Contribution to Cultural Heritage" by the Cultural Heritage Administration for contributing to preservation of cultural properties by supporting the restoration work for Daejojeon Hall and Huijeongdang at Changdeokgung Palace. It also became the single company to receive the ″Culture for Rewarding Veterans and Patriots Award″ from the Ministry of Veterans and Patriots Affairs for supporting war veterans and families.