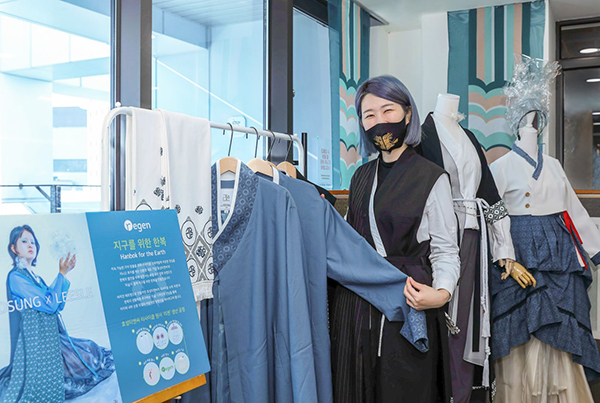 Hyosung TNC′s PET bottle recycled fiber, regen®, was born as an everyday hanbok.
Hyosung TNC unveiled the hanbok made of regen for the first time at the Ministry of Public Administration and Security′s ″Tour of the Site of Innovation″ event held at Jeonju Social Innovation Center in Jeonju, Jeollabuk-do, on December 3.
Hyosung TNC exhibited about 10 kinds of hanbok made of eco-friendly fibers in collaboration with the modern hanbok brand "Leesle."
"Leesle" is a fashion startup taking the lead in the globalization of hanbok by combining tradition and modernity to produce hanbok that people can wear naturally and stylishly in everyday life.
Kim Yong-seup, CEO of Hyosung TNC, said, "Applying PET bottle recycled fibers to hanbok was a new attempt that has proved that PET bottles can become a great resource to revive Korea′s unique style. We will continue to make new attempts to respond promptly to the needs of customers and changes in the market."
Regen is an eco-friendly polyester fiber brand made of recycled PET bottles by Hyosung TNC. Hyosung TNC has built up it as Korea′s leading eco-friendly textile brand by launching Regen Jeju, Regen Seoul, and Regen Ocean successively in cooperation with local governments.