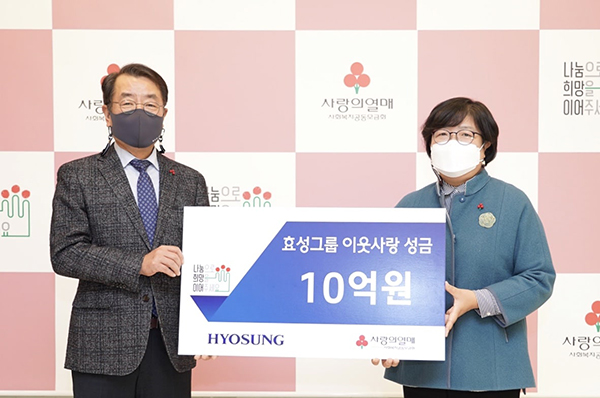 Hyosung donated a 1 billion won love-thy-neighbor fund to the Community Chest of Korea/The Fruit of Love Foundation in Jung-gu, Seoul on December 7.
Donated jointly by Hyosung Corporation, Hyosung T&C, Hyosung Heavy Industries, Hyosung Advanced Materials, and Hyosung Chemical, the fund will be spent for the provision of support for women from less-privileged households trying to land jobs and for those striving to strengthen their self-reliance.
"All of us had a difficult time in 2020 due to COVID-19. We hope that the little something we donate makes our less-privileged neighbors feel warm and have courage to improve their lives in the New Year," Hyosung Chairman Cho Hyun-joon said, commenting on the matter.
Meanwhile, Hyosung engages in a variety of social contribution activities under the slogan "We'll share what we have with you." In February this year, the Group donated 500 million won, along with medical supplies, as part of the campaign to cope with the situation caused by the pandemic through joint efforts. In August, the Group donated 300 million won to flood victims.
The Group also provided financial support for the creative activities of the artists working at Jamsil Creation Studio, a place of creative works for disabled artists specializing in visual arts. Recently, the Group provided support for the production of online ecological education contents by the foundation People for Earth as part of social contribution efforts in environment-friendly sectors.