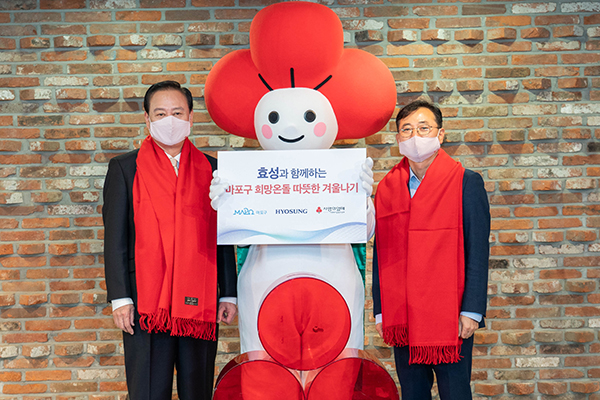 Hyosung donated 40 million won to the "2021 Warm Winter Contactless Fundraiser" hosted by the Mapo-gu Office on November 19. It was a donation for the underprivileged in Mapo-gu District, home to the headquarters of the Hyosung Group, as part of its efforts to fulfill its corporate social responsibilities to the local community. The donation is intended to help the disadvantaged in the district with their emergency living expenses, medical expenses, housing expenses, or education expenses.
The "2021 Warm Winter Contactless Fundraiser" was broadcast live on the "my MAPO Mapo-gu" YouTube account. The annual event had been held offline for nine years before it was offered online this year due to the COVID-19 pandemic. "If you go alone, you can go fast; but if you go together, you can go far. Hyosung will always seek to grow together with its neighbors," Hyosung Chairman Cho Hyun-joon said.
Meanwhile, Hyosung is hosting the "Share Rice of Love" event and the "Share Kimchi with Neighbors" event on November 24 for low-income residents in Mapo-gu District in a contactless way. Every year since 2006, Hyosung employees have volunteered to deliver rice and kimchi to the needy personally. This year, the event is held in a non-face-to-face way due to the pandemic.