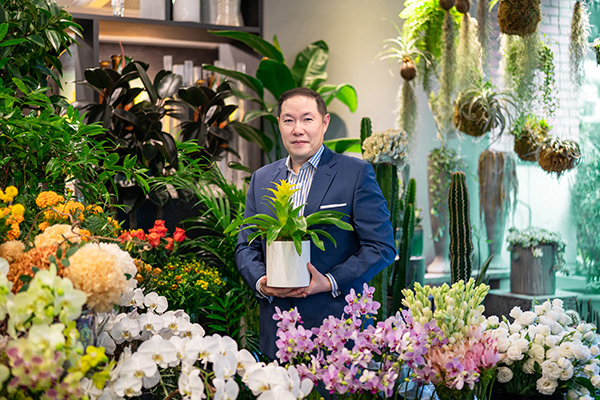 HYOSUNG President Cho Hyun-sang said on October 8 that he has taken part in the 'Flower Bucket Challenge', a relay campaign designed to help horticultural households experiencing hardship due to COVID-19.
Mr. Cho Hyun-sang took the relay baton from CEO Lee Tae-sung of Seah Holdings, purchased air-purifying plant pots from a horticultural farm in Seoul, and presented them together with KF-94 face masks for COVID-19 to 100-plus office-cleaning and facility management employees and security guards at the corporate buildings in Mapo/Banpo, Seoul.
"I'm glad to take part in the 'do-good' campaign designed to provide support for horticultural households currently experiencing hardship due to COVID-19. I hope what little support provided by us can go a long way in bringing happiness to these people who are working hard for the Company. I always appreciate these employees who are doing their best to protect the Company and other employees from the pandemic," the HYOSUNG President said. He vowed to do what he could together with the employees to overcome the current difficult situation soon.
Mr. Cho Hyun-sang, who heads the HYOSUNG Volunteer Service Corps, has engaged in a variety of social contribution activities. As an acquaintance of world-famous cellist Yo-Yo Ma, he has arranged a 'Yo-Yo Ma & Silk Road Ensemble Teaching Class' to be held in the country since 2009 to provide members of 'Onnuri Love Chambers', an orchestra composed of young people with development disability, with an opportunity to learn from Mr. Yo-Yo Ma. He, along with HYOSUNG employees, has also taken part in Good Samaritan activities for less-privileged people every year including such activities for 'Young Nak Aenea's Home' in Seoul.
Meanwhile, he will be the first runner of the in-house relay campaign Thank you! Cheer Up! to be launched this month. The campaign seeks to express gratitude to team leaders of the Group's affiliates for striving amid the unfavorable business situation.
Mr. Cho Hyun-sang has handed over the relay baton of the Flower Bucket Challenge to Hyundai Motor Vice Chairman Chung Eui-sun, President Park Ji-hun of LEEHAN, and President Kim Dong-kwan of Hanwha Solutions.