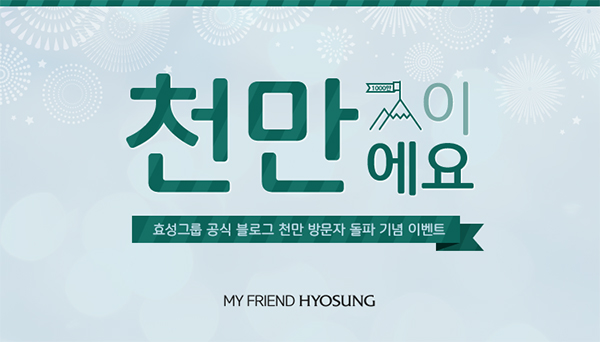 More than 10 million people have so far visited My Friend Hyosung (blog.hyosung.com), Hyosung's official blog.

Hyosung is holding an event titled "the 10 Million" from December 17 to 26, 2019 to thank blog visitors and customers. To join the event, you can vote for the content you consider to be the best and leave a comment on the blog. A draw will be held on December 31 to give away prizes including Air Pod Pro, movie tickets, and beverage coupons to 1,000 people.

The company has been using the blog as a channel of communication with its customers by offering various kinds of useful information in plain language including Hyosung's businesses, employees' stories, and job opportunities. The blog has a total of 4,546 posts, and it has won 5 awards so far including Best Organizational Communication Blog Award at the 28th Korea Communication Awards 2018.

Hyosung is the first B2B company to open a blog in 2010, and it is currently operating a Facebook account and a YouTube channel.

Hyosung's passion for communication has been driven by Chairman Hyun-Joon Cho who is keenly interested in communicating with customers. "Hyosung will be a company that listens to customers. The voice of customers is the alpha and omega of our business activities," Chairman Cho stressed in his inaugural speech. Since taking office as chairman, Cho has been implementing the voice of customer-based principles in all aspects of his business management and personally meeting with global customers as part of his efforts to communicate better with customers.






*About Hyosung : Hyosung Corporation is a South Korean industrial conglomerate, founded in 1966. It operates in various fields including heavy Industrial machinery, advanced materials, chemical industry, and textiles. Its CEO is Hyun-Joon Cho and the headquarter is in Mapo-gu, Seoul. Hyosung has a global network of about 90 sites in the U.S., China, Europe and other parts of the world, with about 30,000 employees. Tire reinforcements, spandex, and seatbelt yarns are No.1 in global market share.